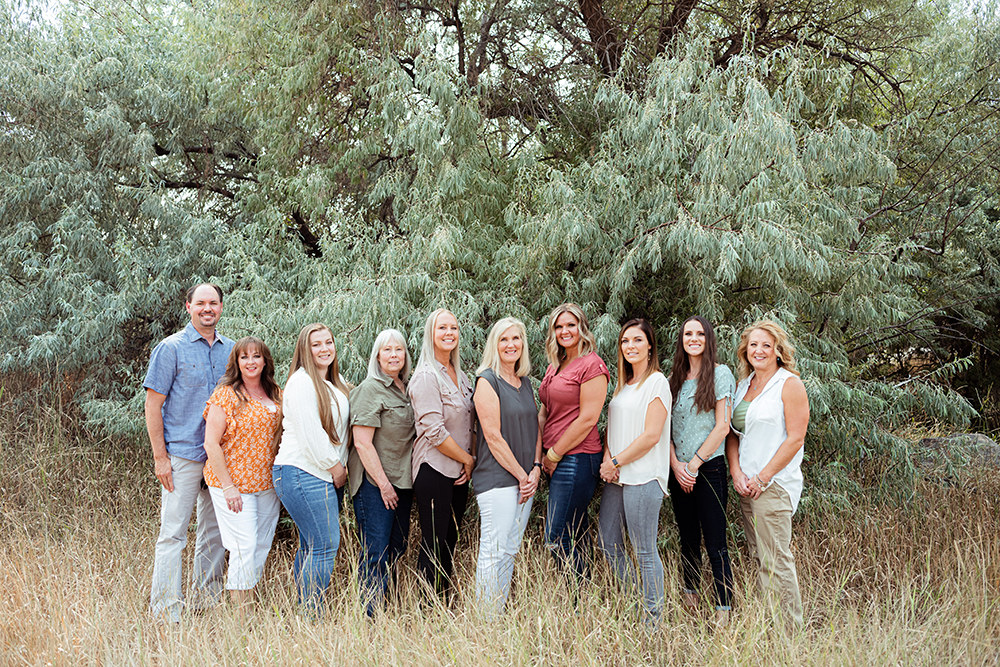 Dr. Kyle Siemen
Hello, my name is Kyle Siemen. I have had the honor of being part of the Sage Dental family since 1999. I was born and raised in Pocatello. I graduated from Highland High and went on to get my BS at Idaho State University. I left Pocatello for a four year "vacation" where I received my DMD from the Oregon Health Sciences University School of Dentistry. Then it was back to Pocatello to start practicing with Dr. Mooney who just happened to be my dentist since I was 3 years old. I have loved being back in Pocatello since my mom and dad are here. I married my beautiful wife Essie in Hawaii. I love the community of Pocatello and I am currently involved in: Pocatello Rotary Club, Board Member of ISU Bengal Foundation, Bannock Civitans, Board Member of Delta Dental of Idaho, and I am past President of the Southeast Idaho Dental Society. In my spare time, I can be found trying to hit the little white dimpled ball on the golf course. I doesn't seem to always go all that well, but I still try. I enjoy mountain biking, reading, cooking, and occasionally can be found playing the drums. Thank you for visiting our website and we hope to see you soon.
Dr. John T. (Jack) Mooney, Retired
Dr. John "Jack" Mooney, now retired, provided forty years of service and experience to Sage Dental. He sought many hours of continuing education to include training in orthodontics, periodontics, fixed and removable crowns and bridges, microscopic dentistry, and many others.  His time and expertise while practicing dentistry with us has been invaluable.  We want to thank him for not only the quality, long-lasting dentistry that he provided to our community; but also for the mentorship he provided to our entire staff.  In retired life Dr. Mooney spends his time teaching at the IDEP Residency Program, serving as the vice president on the Pocatello Zoo Board, and volunteering on the steering committee for the Grace Lutheran High School.   He is married to his beautiful wife Katie, a hygienist, and together they have five boys and four grandchildren.  Hopefully many of you will still meet Dr. Mooney around the office and hear some of his favorite puns! Come prepared!!
Shantel
I am Shantel Stinger. I have worked at Sage Dental since 2003. During my career here I have worked as Hygiene Assistant, in the front office, and I am currently Dr. Siemen's Assistant. I was born here in Pocatello. I graduated from Highland High. I have a license in Cosmetology.  I am married to my fantastic husband BJ.   We have no children, but love the many different animals that we have. In my spare time I enjoy being creative and decorating whatever I can get my hands on. I also enjoy curling up with a good book.
Barbara
Hi I am Barbara Houser.  I had the pleasure of coming to work  at Sage Dental in May 2010. I hope to enjoy many years working here with the wonderful patients and staff. I was born in Caldwell and was raised in many places along the way. I have been married for more than 35 years to a wonderful man who is retired from the railroad. We had the pleasure of raising 2 daughters who have blessed us with several grandchildren.   I enjoy camping and fishing with my husband and vacationing by the ocean and with my family. I take advantage of every opportunity I can to spend with my family.
Rachel
My name is Rachel North. I have worked at Sage Dental since 2001.  I have been a Dental Assistant for Dr. Mooney, Dr. Siemen and Dr. Gillette.  I mainly assist the dental hygienists, but gladly jump in wherever I am needed.   I am a Pocatello native, and love it here. I have been married for many wonderful years to Rob. We have no children, but we love to travel, even though that means leaving our two dogs behind.  I love anything that involves food and playing in the sunshine.
Tayler
My name is Tayler and I am originally from Grace, ID. I started at Sage Dental in February of 2021. I love being a hygienist and I am excited to be part of this great team! During my off time, I like to read, cook, and go on road trips.
Kimberly
My name is Kimberly. I am Dr. Gillette's assistant. I grew up in Lava Hot Springs, Idaho and graduated from Marsh Valley High School. I am happily married to a wonderful husband. We have 2 dogs and 2 cats which are our children…for now. I love all kinds of food and traveling with my family. I enjoy summer fishing trips with my friends and all our dogs. In the winter I enjoy relaxing with my husband at his family's cabin in Island Park, Idaho.
Amber
Hi! I'm Amber. I joined the Sage Dental family in February 2018 and couldn't be more excited. I was born in Idaho Falls, raised in Downey, and call Pocatello home. I have a four year old daughter Imani, who is the perfect combination of sassy and sweet. We love to travel and spend time with family. If there is a beach and sunshine count us in! I love running, coffee, health and fitness, and anything food related.
Brandy
Hi, I am Brandy. I moved to Pocatello from Northern Colorado and am enjoying life in Idaho. I have been a Dental Hygienist since 2013 and started at Sage Dental in 2018. My husband and I have two daughters and many pets. We love spending time in the mountains and traveling to see family.